leinwände & Canvas Belts - Design Stories

Belted Knit Dress / Gray
Bold open back neckline and canvas tape belts.

These are iconic details that leinwände has continued to use from the very beginning, sometimes in different materials, and the canvas tape belt is one of the keywords that express the identity of the brand.

In this time of Design Stories, we present the story of the early days of leinwände when this detail was created.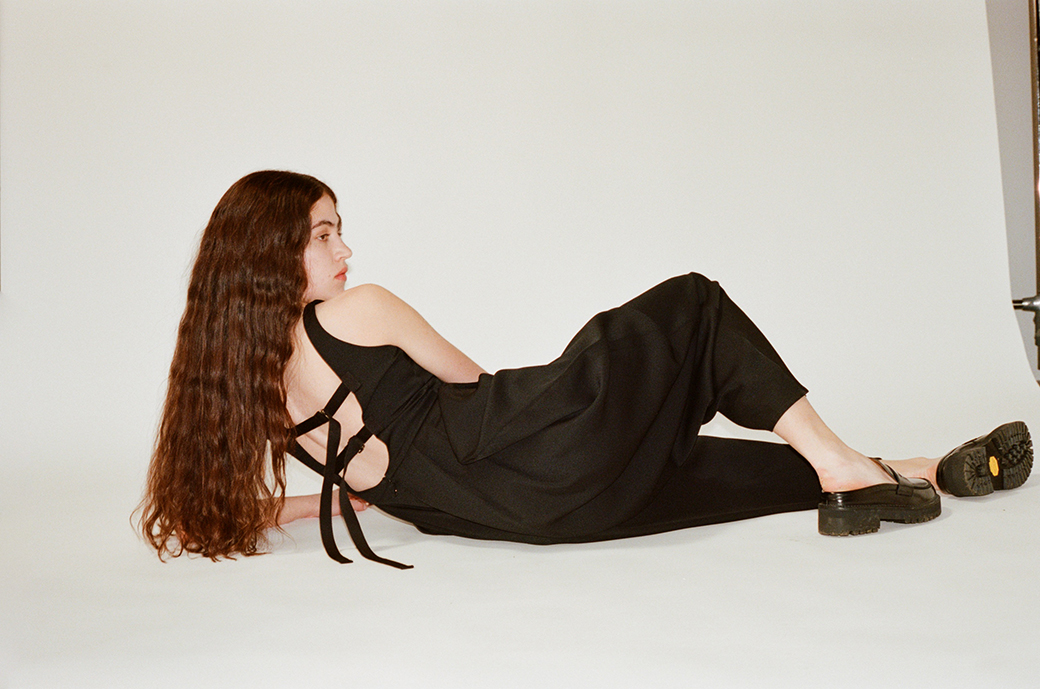 Belted Knit Dress / Gray
"Does the world really need the clothes I make?"

The world today is full of clothing.

Many inexpensive brands, including fast fashion, are on the street. The sense of consuming clothes is becoming stronger, and while designers felt uncomfortable with these trends, she also felt that even if she aimed for the runway as a designer's brand, she would not be able to create realistic clothes that would be loved and used on a daily basis by people.

What defines the value in creating clothes then?

At that time, the designer was facing her vintage clothes collections that could not be made in the modern production background, such as hand-knitted knitwear and tough military items.

After spending several months facing those vintage clothes and thinking over thinking, finally she found one answer that,

"I don't know how many customers who share my sense of beauty and values will find my clothes, but the first step is to make clothes I truly want to wear."

At the same time, she began to make products without thinking of the sales pitch of "if you have one, it would be useful.

Clothes that are useful to have can actually be fine without sometimes, but leinwände wants to create clothes that are indispensable as much as possible.

What she can do as a designer to achieve it is to face her own identity, to make it a solid brand, and to keep the details and mood that haven't changed since the beginning.

It was to her advantage that she had left her own career behind with her moving to London.

The inspiration is a canvas for oil painting and masking tape.

The back conscious tape belt detail, that has unchanged since the brand started, is derived from the brand name leinwände, which means canvas in German, and was inspired by the idea of putting a white canvas anywhere on clothes.

leinwände designer thought she wanted to decorate it as if she were using masking tape to paste a picture or photo on the wall.

It is not important to paste it neatly, but what you put on it is important. It would be cute if the knitwear had ribbons sewn on top that weren't really needed.

With these thoughts running through her mind, she created the detail as a result of thinking of a design that would give a leading role to what is seemingly unimportant but is still necessary.
Those used for the Belted Knit Dress form 23AW collection are also memorable.

The key points of this item are its simplicity, sophisticated décolleté cutting, and the elasticity and durability of the material. This item is a basic item of leinwände with an adjuster tape on the back. Also, it can be worn differently depending on the styling by matching accessories or wearing something over the top.

Knitted Fringe Skirt / Beige
In lookbook of this season, stylist Nobuko Tannawa used a knit fringe skirt as a layered item, and that added beautiful contrast to the flat dress.

Belted Jumpsuits / Khaki
With looking back at the leinwände's canvas tape belts, we can realize that there are some "reassurances" that have not changed since the early days, but there was also a "purity" that comes from new challenges and a "strength" that was born when something is started.

leinwände will continue to cherish the feelings and mood it had at the beginning and make pieces with the unchanged philosophy.