Tie Check Shirt - Design Stories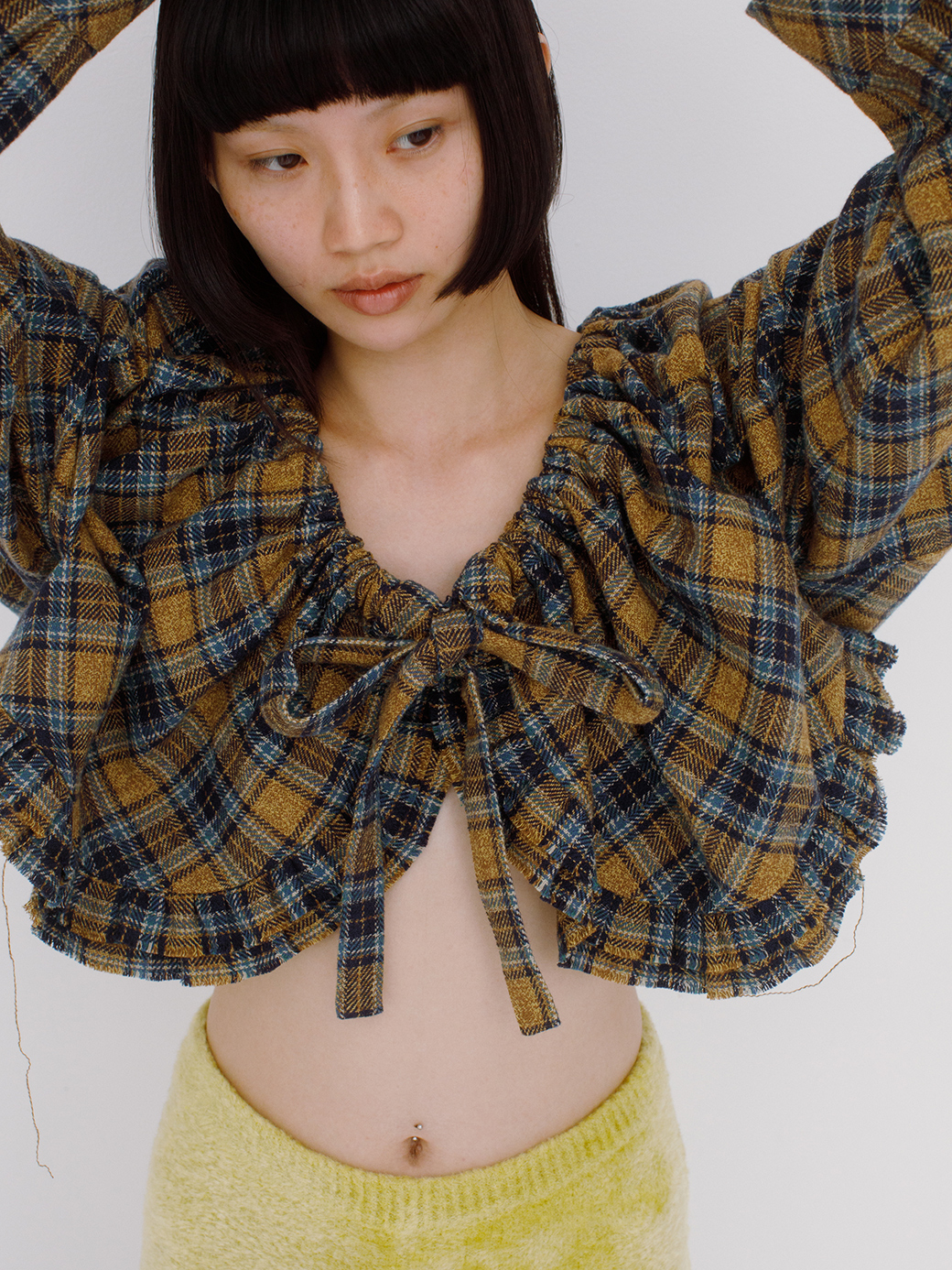 Voluminous gathers made of rough mens-like fabric.

The Tie Check Shirt, with its androgynous charm, is a representative piece of the leinwände 23AW collection, with Annemarie Minna Renée Schwarzenbach as the mood icon, evoking her gender-neutral charm and the Orient countryside where she traveled.

This is a multiway piece you can enjoy wearing it as a jacket with a gathered collar with tying the ribbon and a collarless jacket by untying the ribbon.

In this time of Design Stories, we will focus on the production process of the Tie Check Shirt from the perspective of the leinwände designer.


In the old days, flannel check shirts were mass-produced mainly in Europe and the United States as workwear for the working class, and they are still loved by people today as a typical American casual item.

As a vintage clothing collector with many influences by American casual styles for long time, the leinwände's designer has dug up and collected dozens of checked shirts.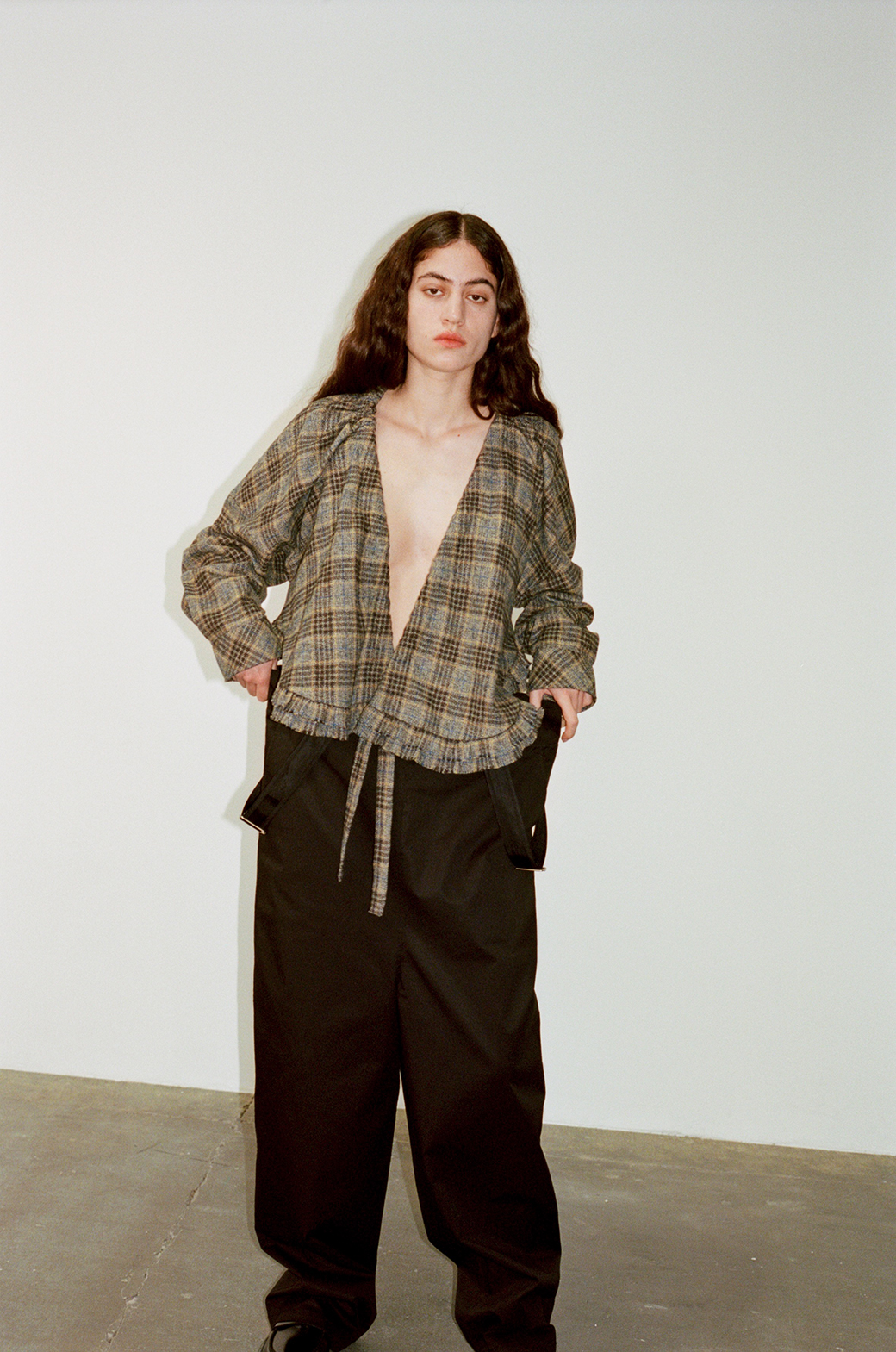 When she started to work on check shirts for the 23AW collection, the first thing came up for her mind was that no matter what style it is, and fabric she uses, checked shirts are checked shirts if they are checked,

and also,

she can't just make them straight-forward and orthodox.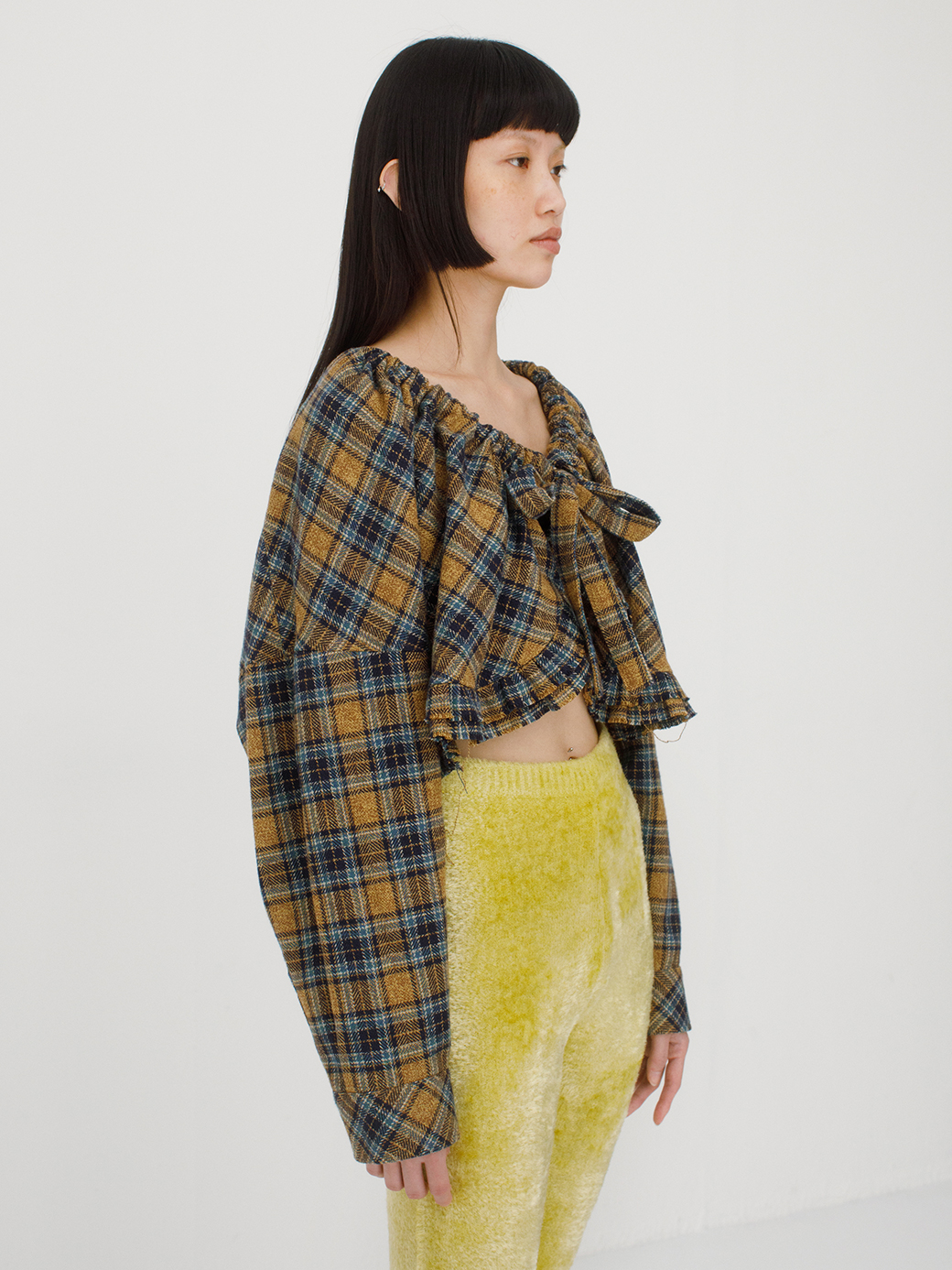 However, she found herself collecting thick yarn-dyed checked flannel fabrics for the material selection.

This was a very straight-forward and orthodox choice.

If so, she had no choice but to be playful in the shapes and patterns.

Eventually, she decided to completely ignore such basic rules, like they are with buttons, sleeves, pockets etc.

With canvas tapes and ribbons, which is one of the details that leinwände has used since the beginning, the item can be gathered and stretched to create a variety of ways to wear.

If let the strings hang down to make it look like a robe.

A romantic piece with lovely volume and gathering when the ribbon is pulled over and tied.

With these image in mind, she drew rough sketches.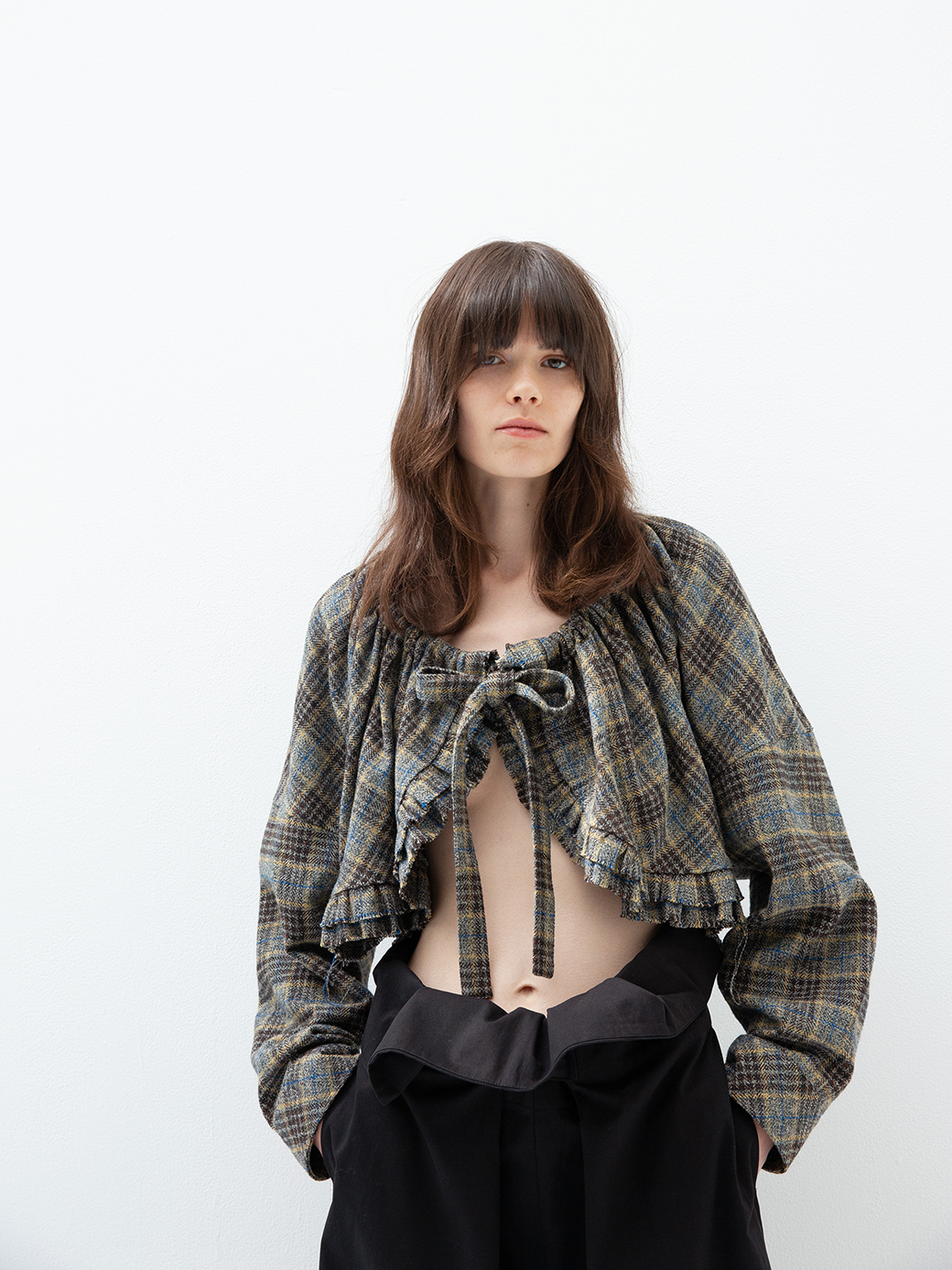 At the same time, she wanted to make the overall atmosphere of the piece gender neutral.

This is where the orthodox fabric choice comes into play.

Of course, it is gorgeous to create beautiful ruffles with silky materials that go well with gathers, but in the 23AW Collection, we are attracted to the discomfort of slightly lumpy ruffles made with rugged, rustic materials.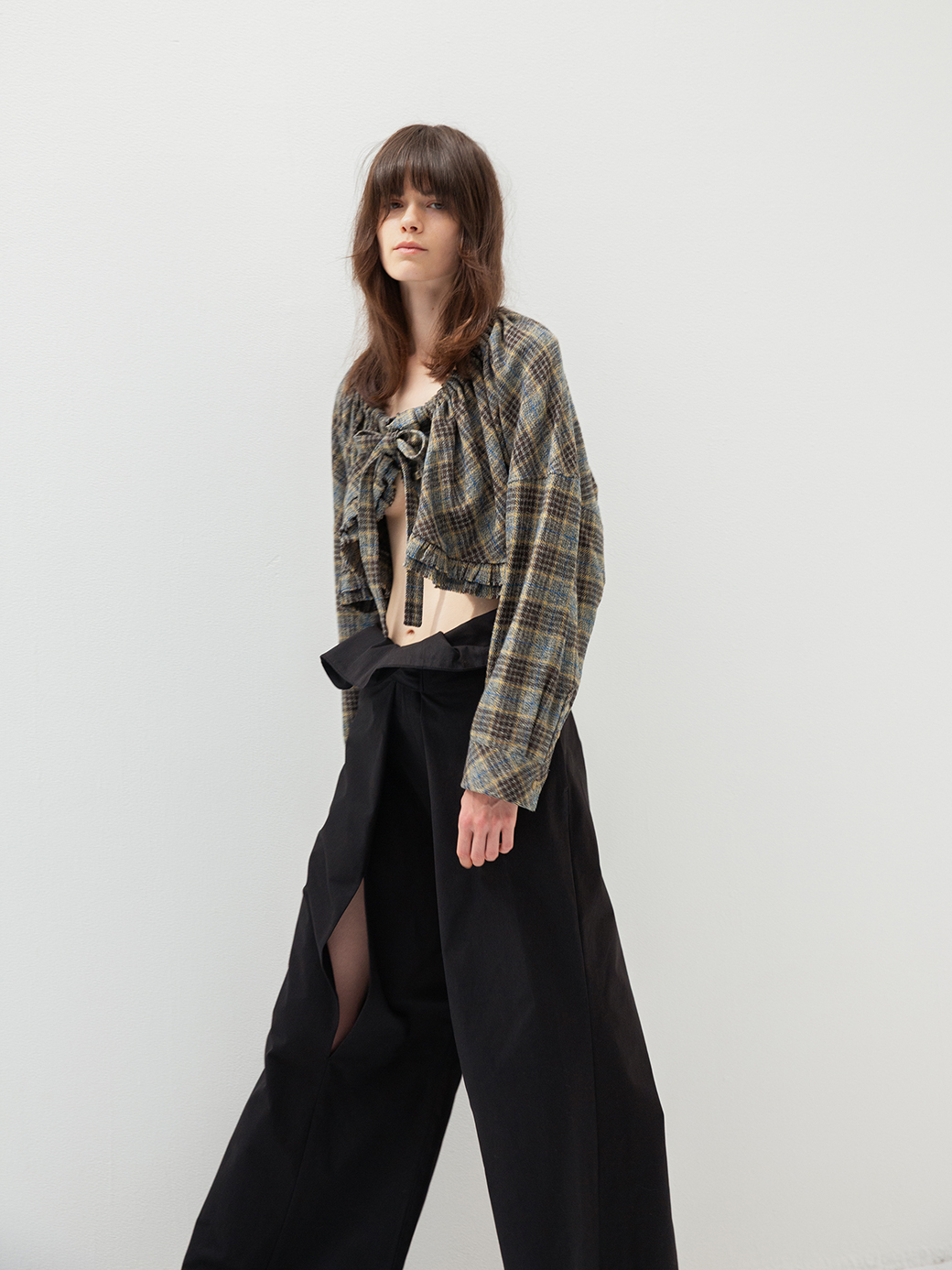 It can be worn cool with baggy pants, and cute with knit shorts.

It is a leinwände-like piece that you can enjoy styling according to the mood of the day.


Click here to check Tie Check Shirt.